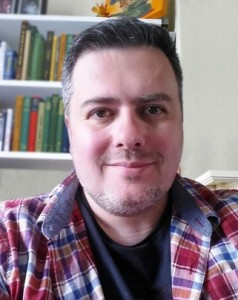 Si Page was born in Romford, Essex in 1970 and grew up with a love of football, films, frolicking and females (the priority of the four 'F's reversed during his late teens).
After attending three different secondary schools, Si decided it was a waste of time turning up for his GCE exams and bunked off to head for the workplace via the YTS scheme. Earning little more than twenty-something quid a week and a clip round the ear for cutting carpet 'very wonky', Si set off in search of new horizons.
He describes the next ten years of his working life in grim fashion: 'I worked as a telesales 'thingy' (ew), vending machine salesman (spit), insurance clerk (snore), debt collector (ouch), recruitment consultant (liked that one) and a mortgage broker (worked for sharks and didn't last long).'
Things drastically changed in 1996, when Si decided to study for a B.A. Hons. Theology Degree somewhere outside of Essex, in a strange land called 'The North'. Things were reportedly so bad 'oop North', that Si fully expected to be living among whippet-racing peasants dressed in shell suits and living off a diet of mushy peas.
Si heard about something called the North-South divide and mistook it for the Northern and Southern Hemispheres. He reasoned that pollution due to population density must have been the reason for the shorter lifestyle amongst the race of Northerners, and not just the peas.
After a car journey up the M6 motorway to a grassy dwelling called Cheshire, Si survived three years of student life, avoiding Sudden Death Syndrome by refusing to eat the carcasses cruelly served up in the college canteen. He finished his degree in 1999 and until 2007 he worked as a Reverend in the North West of England – Merseyside and Lancashire. Amongst more sophisticated company, Si would like to point out that he resided a few miles away from two world class golfing resorts – the first near Royal Birkdale, and the second, a few cosy miles from Royal Lytham.
Si has since been involved in a number of creative projects, including an Oscar-nominated short film called 'Most'. He has of course, written several hilarious books. First, the comedy novel, 'Missing Gretyl' (also a screenplay), second, a parody and satirical work on David Cameron, called 'The Inside Scoop: The Secret Journal of a Prime Minister,' and more recently, the highly rated novel and Book Club Charlie Award 2016 winner for comedy, No Idea.
Si is working on three books at present, from the sequel to Missing Gretyl, a marital comedy, The Holiday, and a drama, The Collar.
Si has two lovely boys called Ruben and Freddie and has been married for nearly twenty years to a beautiful lady called Solana, who prior to meeting Si, enjoyed the full use of her mental faculties.
Dedicated to his writing, Si takes his classroom humour, workplace banter and on a more serious note, life skills from the pastorate, to write funny, challenging and original drama.
There's much more to come… watch this space!
You can also find out more about Si Page on Facebook at http://www.facebook.com/SiPageauthor and Twitter http://twitter.com/Siberpasta